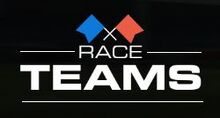 The intention of this page is to keep a list of team events during the
Koenigsegg and Nissan Update (v5.2.0)
release, and make it more mobile friendly.
You can create or join a Race Team, and compete against other teams in weekly competitions to win Gold prizes for you and your teammates.
To access the Race Teams feature, you will need to have a Driver Level of 10 or above, and have at least one Social Profile connected to your game.
List of team events
No
Date
Type
Hours
Car
Track
Top
Reward
()
Team Goal
Goal Reward
()
1
Apr 26th
Overtakes
25
Any Koenigsegg
Any, Assist Disabled
200
500
2500 ots
20+40
=60
2
Apr 30th
Top Speed
25
BMW Hommage R
Any
100
500
3
May 3rd
Laps
25
Any British
Any British
200
500
400 laps
20
4
May 7th
Top Speed
25
Any
Any US
200
500
5
May 21st
Top Speed
25
Any Nissan
Any
100
500
6
May 24th
Elimination
25
Any
Le Mans
1000
300
110 wins
20
7
May 28th
Top Speed
25
Any Japanese
Suzuka
Related Pages
Ad blocker interference detected!
Wikia is a free-to-use site that makes money from advertising. We have a modified experience for viewers using ad blockers

Wikia is not accessible if you've made further modifications. Remove the custom ad blocker rule(s) and the page will load as expected.