"
As you may be aware, Leipzig is known for taking the turns and straights from around the world and combining them into one glorious test track. Porsche has been kind enough to show us around.
"

— In-game description, from Lions of Leipzig
Porsche Test Track is a racing circuit located north west of the German city Leipzig, Sachsen (Saxony). The circuit serves as a test track for PORSCHE's vehicles and features 10 sequences that have been inspired by other racing circuits around the world.
The circuit features three track configurations in-game: Dynamic, On-road (Short) and On-road (Long).
Porsche Test Track was added to the game in the Lions of Leipzig Update (v3.5) of July 2015 and is the third German circuit to be added, making Germany the country with the most circuits in Real Racing 3.
Map
Variants
Dynamic Circuit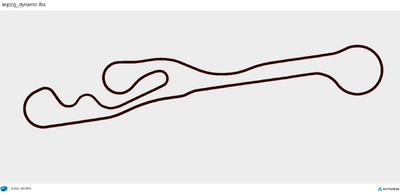 1.40 miles (2.25 km)
On-road Circuit (Short)
1.367 miles (2.2 km)
On-road Circuit (Long)
2.303 miles (3.707 km)
Official video, released by FM, for the three tracks, Leipzig Tips with PORSCHE Instructor David Jahn: