Mazda Raceway Laguna Seca is an international raceway circuit located in Monterey County in Monterey, California, USA. Built in 1957, it has operated as a race course for motorcycle racing and automobile racing. It was built around a dry lake bed at the time, which was why it was given its name Laguna Seca which is Spanish for dry lake.
In Real Racing 3, the player can race on this course in various events. The course was one of the first circuits included when Real Racing 3 was released. It is also where the tutorial race takes place.
Map
Variants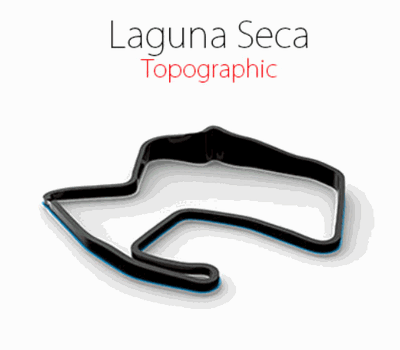 2.238 mi (3.602 km)
Trivia
Laguna Seca is spanish for dry lake. The course was built around a dry lake bed at the time, later having two artificial ponds added.
The earliest development began in 1867 with the Laguna Seca Ranch being built.
The Corkscrew is the most famous turn in the track. In Real Racing 3, it is possible for the players to jump the corkscrew if a high top speed is maintained.

It is also the venue for the Autocross event in this track.

It's one of the tracks which appears more often around the game, as it was a track in the first version.
The production lap record was set by the 2015 Porsche 918 Spyder.
The Mustang Boss 302 Laguna Seca car has a map of this track on its rear badge
Ad blocker interference detected!
Wikia is a free-to-use site that makes money from advertising. We have a modified experience for viewers using ad blockers

Wikia is not accessible if you've made further modifications. Remove the custom ad blocker rule(s) and the page will load as expected.